Donavan Inn
Farm House 1890 - Bedroom wing 2004

A Working Farm on the Blackbelt Prairie - Marion, Perry County, Alabama


Waypoint: N 32-33.385 W 087-18.656


Wi-Fi Available in Inn.

Owned by: Roy Barnett 334-247-2099 (cell), rbarnett21@bellsouth.net
Managed by:
Tyne Olkie, 205 288 6027, tzcoley@gmail.com
and
Brandy Roye, 205 288 2456 kbkkl@yahoo.com



Donavan Inn Rates and Regulations
Location: Donavan Inn is located on the Sturdivant Farm which is also home of the Donavan Lakes Fishing Club. The Club and Inn are located on Perry County 38 (four miles south of Marion on Hwy 45; take Perry County 38 west for one mile; Donavan Club sign and gate on the right). Or, if traveling on State Hwy 5, go six miles south of Marion and take Perry County 38 east for 2.1 miles; Club sign and gate will be on the left.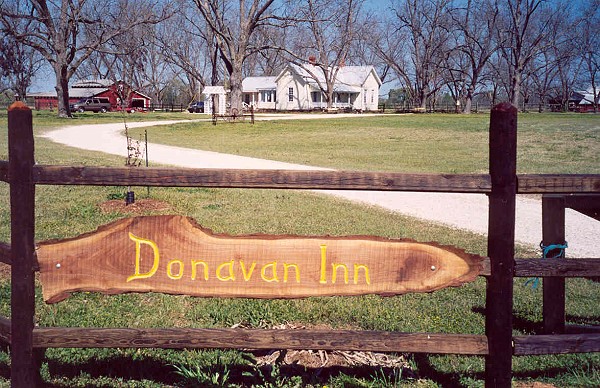 Donavan Inn summer 08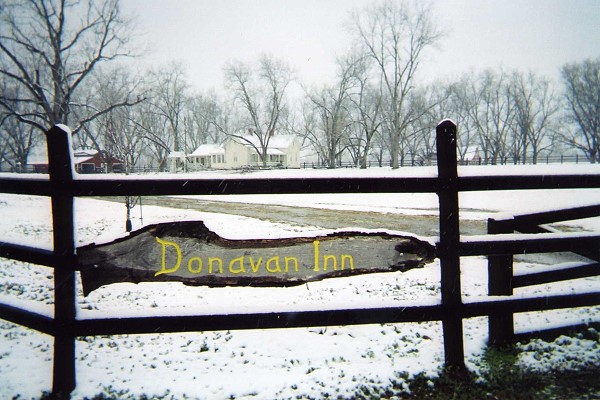 Donavan Inn winter 09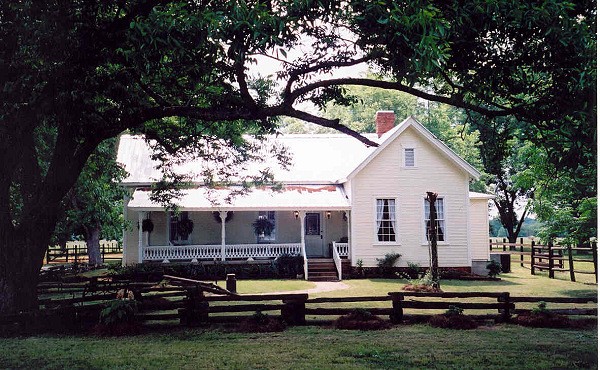 Donavan Inn summer 09
The Sturdivant Farm House was built about 1880 on the King Plantation. The Sturdivants were the last members of the King family to occupy the house. This old farm house is located on the Donavan Lakes Fishing Club property has been converted into a lodge and retreat named Donavan Inn.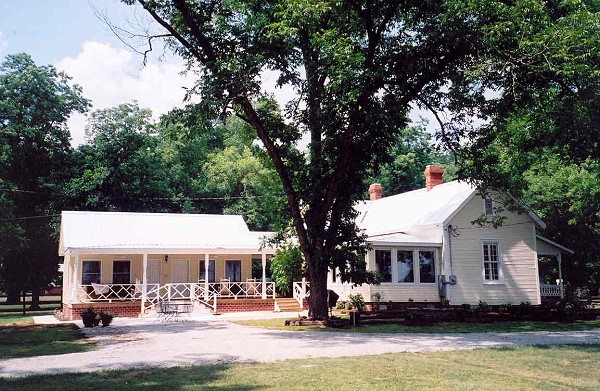 Donavan Inn with bedroom annex 09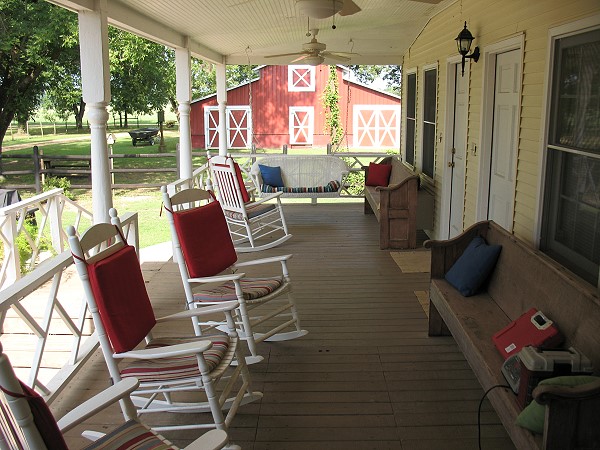 Side porch view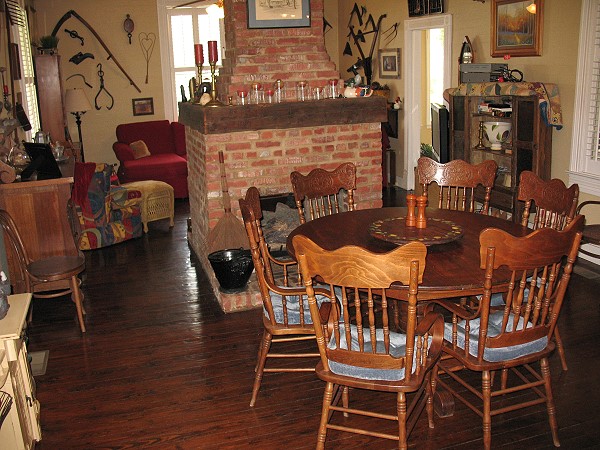 Dining room with sitting room and flat screen satelite TV in background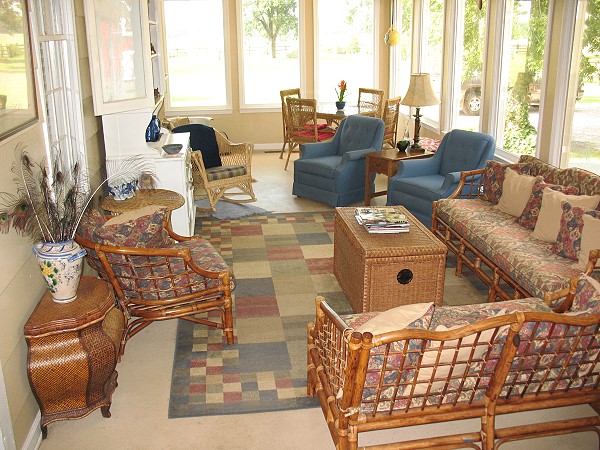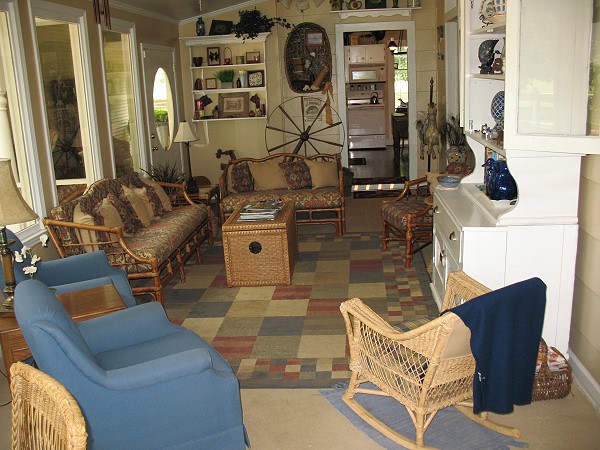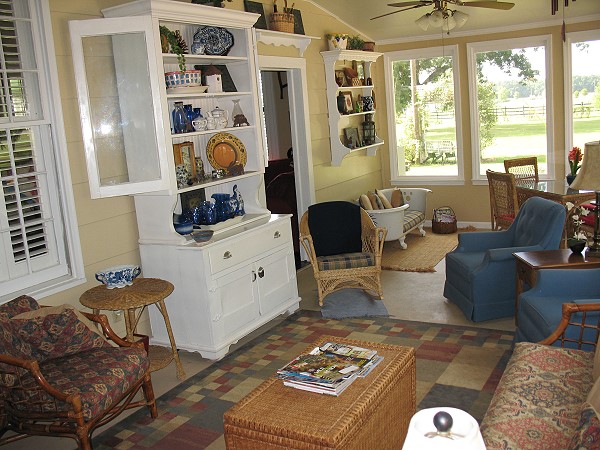 Sun porch (notice bathtub seat)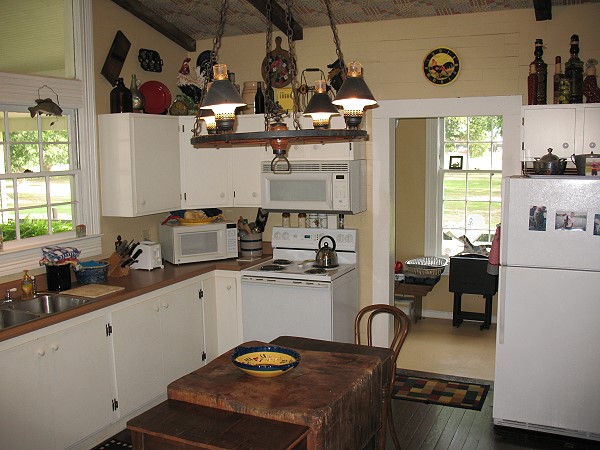 Fully equipped kitchen with ice maker. Laundry room in rear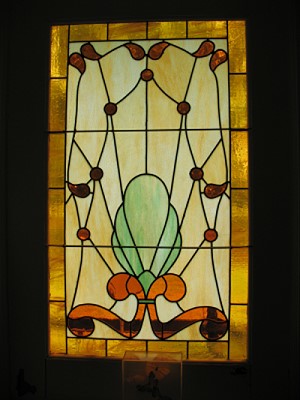 Master bathroom window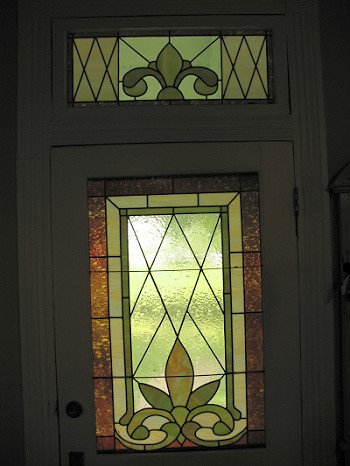 Front door stained glass
A Lodge and Retreat Located on the Donavan Lakes Fishing Club Property
The Donavan Inn restoration and expansion project is completed. This interesting old farm house with its relics of the early days of working the Blackbelt soil is available to the public and to corporations for rent.

The Inn has central air, glassed-in sun deck, family room, roofed porch, satellite TV, mud room with washer and drier, and a wonderful view of nature and of the exotic animal area we call "Earl's World."

The kitchen is fully equipped with cookware and modern appliances such as a microwave, gas stove, large refrigerator, and an antique cutting block table. An ice machine is located in the adjoining mud room. The master bedroom in the Inn has a kingsize bed and a wonderful view of the farm. All bedroom linens and bathroom towls are furnished.

Sleeping arrangements include 1 king, 1 queen, 2 doubles, 2 twin longs, and three large couches that could sleep small children.
Credit Card Payments: We take credit cards for the fishing clubs and for the Donavan Inn. The card number will be entered on the College City Drug store credit card machine. This is the place of employment for the owners of the fishing club and of the Inn. Do not pay your bill for the Fishing Club or Inn at College City Drugs. All payments are to be given to Manager Wilson.
Site created and maintained by Thomas H. Wilson, Fishing Club Manager
Maps to Marion, Alabama and Donavan Inn
| | |
| --- | --- |
| The Sturdiant Farm house before renovation in 2004. Confederate roses in early November (right) | |
| | |
| Michael Woodfin, Jessie Holifield, and Jeremy Collins planted hundreds of bulbs in the pecan corner near the Inn. The owners intend to make the Inn grounds a garden of native plants and flowering shrubs. | |
Guests at Donavan Inn have exclusive use of the Inn and full fishing privileges of the Donavan Lakes Fishing Club. The Club has seven lakes with structure, 17 fishing piers with two fish feeders, 1,000 acreas of prairie, swamp, hardwoods, and wetlands that offer outstanding birding and trips into the wilds of nature.
The lakes are stocked with Florida bass, Tiger bass (cross between northern and Florida subspecies of largemouth bass), Florida coppernose bream, shellcracker bream, blueguill bream, and catfish. Each lake has an ample supply of forage fish such as threadfin shad, golden shiners, gizzard shad (Bar-D lakes) and native minnows.

Fishing at the Club is outstanding...with several bass over 14 pounds caught in the past few years.
Donavan Inn is a great place for families, sportsmen, birders, a gathering of friends, a honeymoon, or just a couple of people longing for the beauty and quiet of the country. Click on the above active links to the Donavan Lakes Fishing Club and to the Donavan Inn Rental Rates to learn more about a trip to the great out-of-doors.
Hunting and Fishing in West Alabama
Marion Area Eating and Activities